The new vanilla and nougat ice cream with cocoa coating, shaped like the popular turtles, is coming to the Ledo freezers for all fans of the Teenage Mutant Ninja Turtles cartoons.
Set off on new adventures with Donatello, Michelangelo, Raphael and Leonardo with an ice cream that hides numerous surprises, 35 different gifts to be exact:
Key chains
Magnets
Ninja Turtle tattoos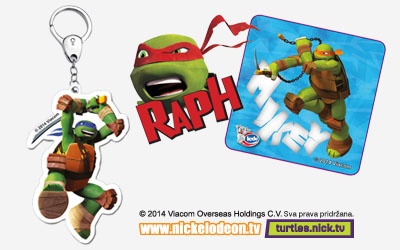 But that's not all; buying Ninja Turtles ice cream will put you in the draw for the great prize game.
Prizes
HRK 50,000 on a consumer card (1x)
PlayStation 4 (10x)
Ninja Turtles stuffed toy (20x)
Ninja Turtles school bag (30x)
Ninja Turtles Lego set (40x)
How to participate
Collect three packages of the "Ninja Turtles" ice cream, cut out the bar code and send them in an envelope to the address – Ledo d.d., 10002 Zagreb, Čavićeva 1a, p.p. 222, with the note "For participation in the Ninja Turtles prize game".
Duration of the prize game
The prize game will last from 1 September 2014 to 31 October 2014, throughout the entire territory of the Republic of Croatia. The draw will be held on 7 November 2014. The results of the draw will be published on the www.ledo.hr website within five days of the draw.
Set off on an unforgettable adventure with the turtles named after famous Renaissance painters, and enjoy the new Ledo Ninja Turtles ice cream!
Rules
Download the prize game rules here