Do you love tasty homemade stews or Bolognese sauce? Home-style cooked meals from the Ledo kitchen are an ideal meal to prepare at home or at work!
How many times during the tough work week do your mom's words come to mind: "You have to eat something with a spoon"?!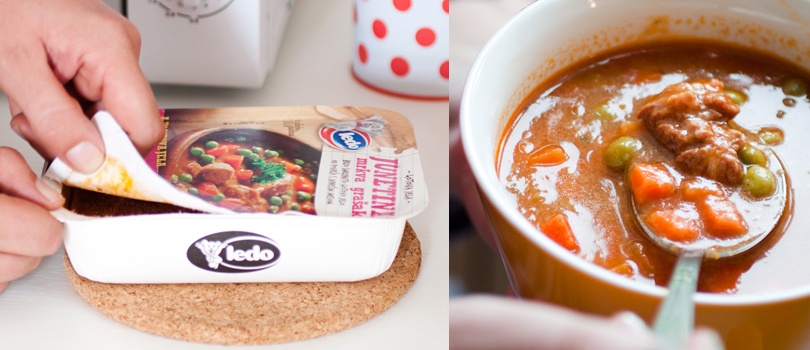 How many times have you thought about delicious green bean stew or beef with peas as you rush out during your short lunch break to grab a pastry from the bakery? From now on, forget the pastry, because these ready made dishes can be prepared in just five minutes, even during your hectic work day, and you can be sure that you're eating a home-style meal. As of this autumn, Ledo is offering seven different types of ready made meals that are easy to prepare at home or at work.
Ledo ready made meals are intended for all those who love the taste of traditional cuisine, but their way of life simply doesn't allow them to enjoy these flavours regularly. Prepare them at home, or enjoy them at the office and make your colleagues envious.
All you need for the Ledo ready made meal is five minutes, and your lunch is ready. There are different flavours allowing you to eat something different each day. The seven different meals come in practical single portion packaging, and are prepared from high quality ingredients, cooked right here at Ledo. Three of the dishes – beans with sausages, green bean stew, and beef with carrots and peas – were previously available on the market. We have added four new dishes – fusili with Bolognese sauce, chicken paprika stew with gnocchi, fusili with pork, and fusili with chicken and vegetables. The flavours and aromas are just like you prepared them at home yourself.
Let the quick and simple preparation, and the wide selection of flavours, entice you to prepare a meal that will be hard to resist. Enjoy!