The 2013 DOP Index prize has been awarded to Ledo in the category of Responsible policies and practices in environmental management
At the recently held 5th national conference on Corporate Social Responsibility (DOP) the DOP Index awards were given out. The conference, held under the auspices of Croatian President Dr. Ivo Josipović, was organised by the Croatian Business Council for Sustainable Development, with the aim of recognising Croatian companies who understand and implement corporate social responsibility. Thanks to our efforts to integrate the values of corporate social responsibility into our operations, we have also been added to the prestigious list of winners in this area, for our responsible policies and practices in environmental management.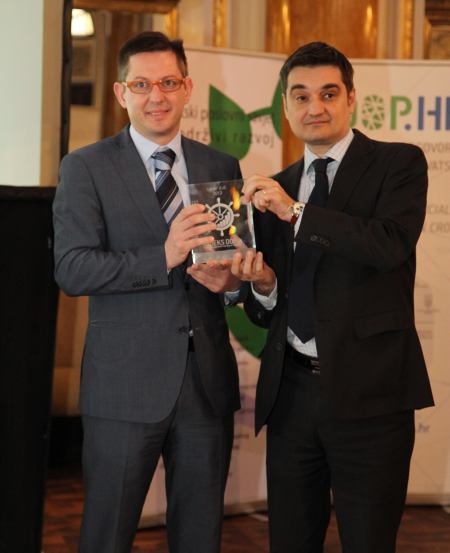 On this occasion, president of the Management Board Tomislav Kitonić stated, "Ledo has achieved high quality and production innovation standards, and even higher standards in environmental protection. Today's award is further confirmation that we are on the right path, and we are particularly pleased with this recognition from the profession. This award is both praise and a challenge that in the future we will continue to raise the bar for responsible conduct in environmental management.
"The superior quality and health suitability of Ledo products is guaranteed by the certified integrated quality management system, in accordance with international standards. Furthermore, Ledo invests great efforts in applying the principles of sustainable development and cleaner production. For this reason, we are pleased that the experts have recognised the efforts we have invested in ensuring superior product quality, while also reducing possible negative impacts on the environment we work in. This recognition, in the form of the DOP Index award for Responsible policies and practices in environmental management, is a stimulus for us to become even better in this area."