The art of creating ice cream combination is again in your hands – Ledo invites all ice cream artists of all generations to take part in the sweetest challenge ever called Ledonardo!

We invite ice cream artists of all generations to take part in the sweetest ice cream challenge called Ledonardo! This year, Ledonardo is looking for real team work. Come up with your combination of flavours, sprinkles, toppings and sauces and you're halfway there. Invite other sweet tooths to create the other half of your ice cream combination, and together you will have created the new Ledonardo masterpiece – SPAJALIZA – an ice cream on a stick that will become a perfectly united whole! Ledo will produce and market the winning ice cream so that absolutely everyone can enjoy it!
Each week, fans will vote for one of the combinations, and the four weekly winners will enter the finale. At the end of the competition, the expert panel will select and additional four combinations to enter into the finale.
Win brilliant prizes!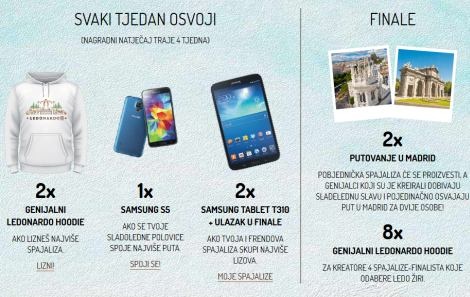 The artists creating the winning halves will forever be remembered as ice cream enthusiasts, and they will also win a trip for two to a city famous for its wealth of art – Madrid. Ledo will also reward the most active competitors. Those submitting the most votes, the most creations, or the most active in combining halves will win a Samsung S5 cell phone, Samsung T310 tablet and Ledonardo hoody sweater.
Become a part of this fun competition and let your imagination run wild to find the perfect ice cream. Imagine that you are a painter with an empty canvas before you. The harmony of the most diverse flavours and textures is in your hands, and curious artists are waiting to accept your challenge and complement it with their own creations.