Silk Milk, a star of the 1990s and never forgotten, is back in the Ledo freezers!
Ledo's Retro Contest was held on the Ledo website from 15 to 29 January with the participation of 70,000 participants. The results of those surveyed gave an overwhelming victory to Silk Milk, with almost 80 percent of the votes, when asked which ice cream star of the 1990s they wanted to see back in the Ledo freezers.
Fans of the Ledo ice creams that were popular in the 1980s and 1990s could participate in the contest and choose between the ice creams Matador, Borovnica and Silk Milk, and the ice cream with the most votes would be put back on sale.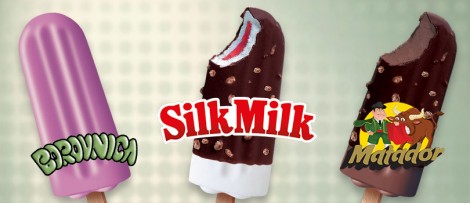 Upon the completion of the contest, it is now officially confirmed that Silk Milk is an ice cream that many have not forgotten, and all this time have been hoping for its return. The great interest to bring Silk Milk back was best seen in the many consumer initiatives on the social networks, inviting friends to vote for this ice cream.
The first Silk Milk was released for sale in the early 1990s when Ledo purchased one of the most innovative pieces of production machinery at that time, enabling the production of ice cream with an internal filling. This ice cream was produced right up until 2006, and it was special because of its irresistible strawberry filling, delicate vanilla flavoured ice cream and crispy cocoa coating sprinkled with hazelnut pieces.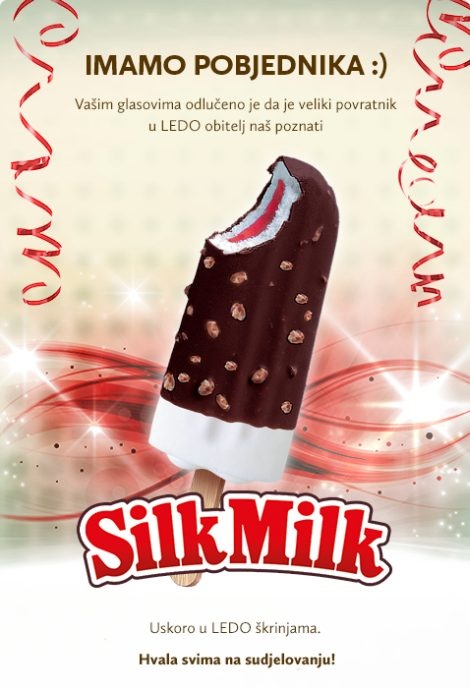 What is interesting is the fact that the new Silk Milk will be produced using the original recipe.
Like Proust's Madeleine cookies, Silk Milk will for many bring back memories of the dance hits of the 1990s, Malavizija, Hit Depo, fashion combinations, sports stars and important events in sports, like the bronze medal of the Croatian football team at the World Championships in France.
Alongside the existing fans of Silk Milk, we at Ledo firmly believe that a whole new generation will decide to try this popular ice cream, and recognise its "retro charm".