Ledo Medo Walk with the Dinosaurs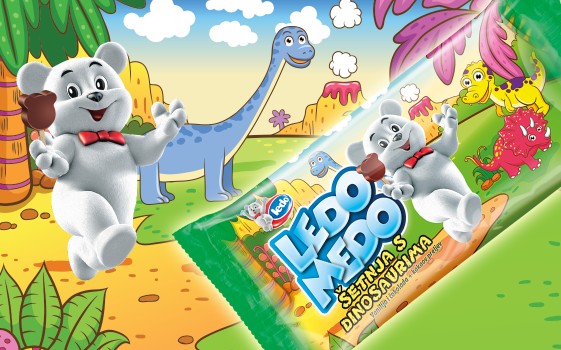 Ledo Medo is about to take you on a walk with the dinosaurs!
Enjoy the taste of vanilla and chocolate flavoured ice cream on a stick with a crispy cocoa topping, and every package contains two photo stickers to add to your album. In addition to photo stickers, the educational album also contains pages to colour and brain teasers for the whole family.
Bring the dinosaurs back to life!
The new free Ledo Medo 3D application can bring the dinosaurs back to life, so you can find out what they looked like, how they moved, and what they sounded like. Point your mobile phone camera towards the golden stickers from the album to bring the dinosaurs to life! With the application, you can play the game Dino Adventures, and help Dino avoid barriers and collect all the ice cream.
Download the application today from Google Play or the App Store.
Enjoy the tasty Ledo Medo ice creams, collect all the stickers and experience adventure with dinosaurs. Find the album at your nearest Tisak!
Ledo ice creams meet the highest health and hygiene standards