Mrak ice cream
75ml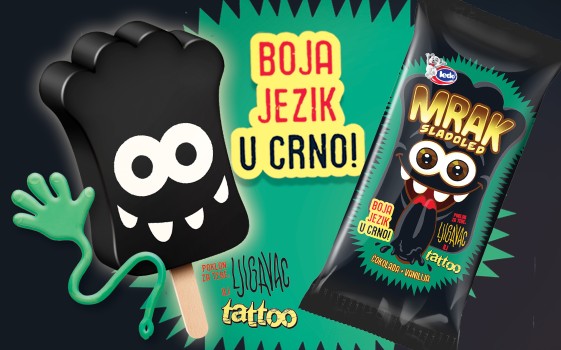 Prepare for some wild fun with the first black ice cream on a stick ever made in industrial production, made with a milk base and natural colours.
The Mrak ice cream (In Croatian, mrak means dark and it also means cool! ) is a treat you never even imagined and it will make your tongue black!
Try this completely new ice cream experience that leaves your tongue black!
The perfect combination of chocolate and vanilla flavours is now even tastier, and it is only waiting to give you new and fun surprises.
Gifts.
Crazy slime balls invite you to play, while the fantastic glow-in-the-dark tattoos are totally cool. In addition to cooling you off, this unique ice cream is sure to make the entire crowd laugh. Give the Mrak ice cream to your friends, watch their tongues turn black and just wait for the fun to begin!
Cool, isn't it?
With Mrak ice cream and the many cool effects, there will never be a dull moment.
Ledo ice creams are the product of our own knowledge and technology