King Love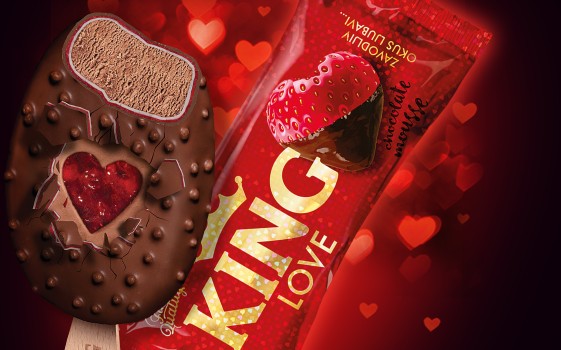 Romantic souls, strawberry fans, and mousse lovers should definitely try King Love.
This ice cream with an airy and foamy chocolate mousse structure and strawberry flavor will conquer the most demanding palate.
At the very heart of this royal dessert you will be surprised by a unique mixture – the heart-shaped strawberry filling with strawberry pieces will immediately seduce you, while the triple soft topping of white chocolate, strawberry, and milk chocolate with a crispy coating will totally captivate you.
Whether you have a romantic date where you need to make a good first impression, a cheerful party with friends, or a pleasant evening where you want to spoil yourself to the limit, King Love is there for your enjoyment.
King
Ledo ice creams are the product of our own knowledge and technology