Hešteg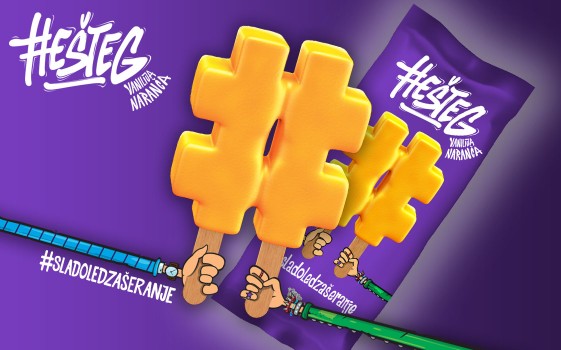 Attention! Attention! The social networks have reported that the # is missing!
Allow us to reveal a little secret – Ledo has borrowed it from the virtual world, transported it into reality, and created Hešteg #icecreamtoshare! 
This is a unique ice cream with a new shape and new flavour that doesn't exist anywhere else in the world. It is an ice cream on two sticks, made from the perfect and delicious combination of vanilla ice cream with an orange coating.
Just like the symbol # is used for sharing on social networks, so this ice cream is intended and ideal for sharing in reality. You can break it into half and share it with your loved ones, friends, or a crush – what a great excuse for some sweet time together, wouldn't you say? ;)
The moments we share with are friends can be more or less funny, but with #icecreamtoshare, your ice cream moments will be so much fun, and your photos are sure to become a cool hit on the social networks.
A big LIKE for Hashtag! 
#icecreamtoshare
Here you can take a look at the recent Instragram photos marked with #sladoledzašeranje. 
Here you can take a look at all photographs marked with  #sladoledzašeranje. Don't forget to follow us at @ledohrvatska 
 on Instagram.
Ledo ice creams meet the highest health and hygiene standards