Soft Ice Cookie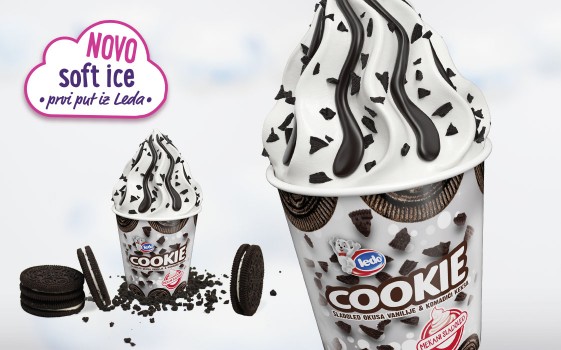 Ledo has prepared a genius new invention that is sure to be an instant delight, the Soft Ice Cookie ice cream cup. This is the first ice cream created in industrial production to have a soft texture, even at -18°C, so that you can enjoy this ice cream as soon as you take it out of the freezer.
The special secret is hidden within Ledo's innovative recipe that gives it a soft texture, while the perfect combination of the finest flavours is sure to win you over. Taste this sensation that is sure to sweep you off your feet with the very first bite, with this irresistible vanilla flavoured ice cream with cocoa cookie pieces, and a rick dark chocolate sauce and crispy waffle sprinkles.
There is no need to wait! Grab this ice cream and give in to the unique ice cream combination in Soft Ice Cookie. Don't forget #nelomizlicu (#dontbreakthespoon) to share your delight over your new favourite ice cream with all your friends on social networks!
Ledo ice creams meet the highest health and hygiene standards