String Bean Stew
400g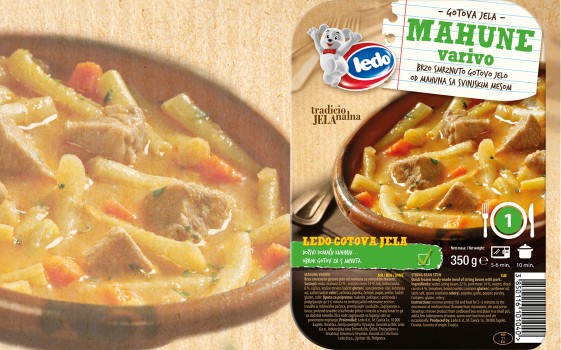 You've had a tough day at work, and feel like you're running out of strength. You've just remembered that there is nothing at home in the fridge, and right now you have no desire to spend this little free time grocery shopping and cooking.
This situation might appear to be helpless, but don't fret – Ledo is here to save the day! Thanks to Ledo's new String Bean Stew, you can relax and enjoy a hot and tasty meal that will revitalise you and recharge your batteries.
This stew is prepared from string beans and juicy cuts of pork, according to a traditional recipe.
Preparation:
Boiling

10 min

Microwave

7 - 8 min
To prepare in a microwave oven, remove product from the cardboard box, poke several holes in the foil and heat for 7–8 minutes at medium strength.

To prepare on the stove, remove product from plastic dish and place in small pot. Add a few spoonfuls of water and heat over low heat, stirring occasionally.
Ledo ready-made meals are quick and easy to prepare, with unforgettable flavour
Similar products