Potato alphabet
600g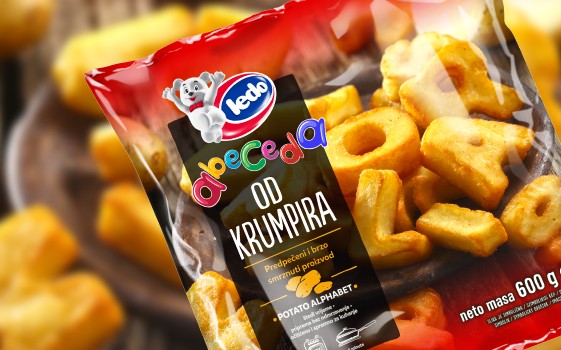 Potato alphabet – baked, boiled or in salad, there are countless ways to prepare potatoes, but only one is the most fun of all. Give in and enjoy the tasty and crispy potatoes cut into alphabet shapes, and the fun is guaranteed, especially for the youngest.
They attract attention with their unique shapes, and will win you over with their irresistible taste. Best of all, all the nutritional value is still intact, as these potatoes are frozen and ready to bake. In addition to spoiling your senses, these potato letters will save you time too. No need to peel, slice or for other preparations before baking, allowing you to spend more time with your loved ones and playing with the little ones.
Teach your children the alphabet with potatoes, quickly and easily, or play a word search game that both boys and girls will love, while these fries will soon become their favourite side dish. Create tasty words on your plate and enjoy fun for the whole family. They can even be served as an ideal snack for gatherings and children's birthday parties.
Preparation:
Frying

3 - 4 min

Oven

15 - 18 min
Ledo fruits and vegetables are a great way to enrich your diet throughout the year