Macho vanilla and Macho chocolate now near the mark of Halal quality on their packaging, making Ledo the first and only ice cream producer in Croatia to have the Halal certificate
A part of Ledo's ice cream line now bears the mark of Halal quality. Ledo has become the first and only ice cream producer and distributer with the Halal certificate in Croatia for a part of its ice cream line.
The Halal certificate was received on behalf of Ledo by Tanja Dinić, director of the Quality and environmental management service. On that occasion, Ledo CEO Dario Vrabec stated, "We are proud that Ledo has taken this significant step forward, and that our ice creams have met the Halal standards. The implementation of the Halal standard was conducted with great care and maximum dedication. It is our wish that this certificate will mean even better placement of our products on the regional and global markets, and that they will meet all our customers' requirements".
The implementation of the Halal standard at Ledo took several months, and included ensuring all the preconditions for obtaining the certificate: procuring ingredients with Halal status, developing the documentation of the management system that proves the company's dedication to apply the Halal quality standards, adapting the production process, warehousing, and sales and distribution. The traceability of all Halal ingredients has been ensured, from entry to the final distribution steps, and this is continually monitored.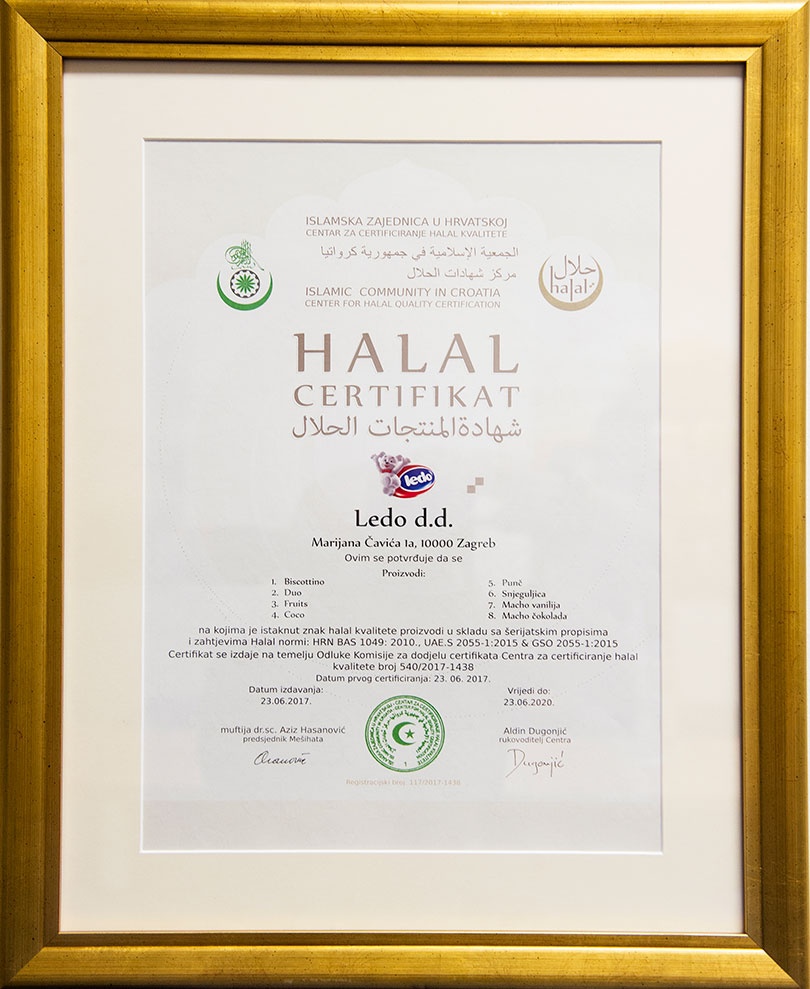 In order to ensure the best preparations for implementation, education was provided by the Centre for Halal quality certification, to expand our knowledge in the field and to better understand the overall vision of the Halal culture.
"We have granted the Halal certificate to one of the most recognizable brands in Croatia and the region, thereby increasing the range of available Halal products for all interested consumers. Ice creams, such as Macho vanilla and Macho chocolate, confirm their additional quality with the mark of Halal quality on the packaging. We expect further coordinated sales and marketing activities of the company, and other economic stakeholders, to ensure more significant progress on the Halal market. Though it is often the countries of the Near East and Far East that are considered Halal markets, I would like to stress that the European and Russian markets are on the rise, and that there is great interest for the placement of these products. The Centre for Halal quality certification will take further steps to help raise the quality of products and the recognizability of the Republic of Croatia on the Halal markets," stated Aldin Dugonjić, head of the Centre for Halal quality certification.
The implementation process was the joint cooperation of all services and sectors within Ledo, as Ledo is continually monitoring the needs and demands of its consumers. This certificate is one of numerous management systems that Ledo has implemented to ensure continuous quality, food safety, environmental protection and energy efficiency (ISO 9001, ISO 14001, ISO 50001, HACCP, IFS, BRC).