Goulash
400g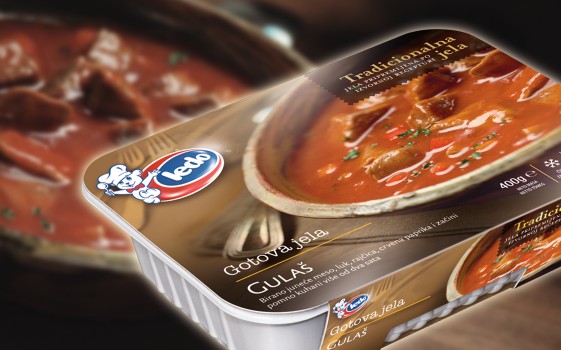 Goulash is a famous Hungarian speciality that has made itself at home in Croatian cuisine and become a very common dish on all menus.
Ledo Goulash is a true harmony of flavours and aromas, made from selected cuts of beef, onions, juicy tomatoes, red peppers and aromatic spices. This dish is intended for those who love spicy meat delicacies prepared according to a traditional recipe, and it also provides highly valuable proteins and minerals.
Today everyone is in a hurry and people have less time for hours of cooking, but with Ledo ready-made meals, you don't have to give up a hot and nutritious meal. Does not contain preservatives, artificial colouring or flavour enhancers.
Preparation:
Boiling

10 min

Microwave

7 - 8 min
Goulash can be prepared in the microwave oven or in a pot on the stove without prior defrosting, in just minutes.

To prepare in the microwave oven, remove product from the cardboard box and poke holes in the foil in several places. Cook at medium strength for 7 to 8 minutes and the meal is ready to serve.

To prepare in a pot, remove the Goulash from the dish and place in a small pot with a few tablespoons of water. Heat stew for 10 minutes over low heat while stirring occasionally.

Serve with gnocchi or dumplings.
Ledo ready-made meals provide a quick and nutritious meal